Guide to knitting needles and crochet hooks
KNITTING NEEDLES AND CROCHETS
Knitting needles and crochet hooks come in different shapes and sizes and can be made from a wide range of materials. The variety of materials of these work tools is linked to the different types of yarn in order to best adapt to the infinite thicknesses, counts, compositions and characteristics. As you gain experience, you develop subjective working preferences and understand the reasons why certain knitting or crochet materials work best for certain yarns and projects.
There are three standard types of knitting needles:
straight irons
double pointed needles
circular needles
Each of these is used for knitting in a specific way. All the needles are then classified by circumference and length, which are fundamental elements for the purposes of processing, both for the technique to be used and for the yarn to be worked.
These are the needles traditionally associated with knitting. They have a tip at one end and a cap at the other. They are used to produce flat "pieces" of knitwear. Knitting is built by working successive rows on top of each other. One row is completed, then the piece is turned and the next row is created in the opposite direction.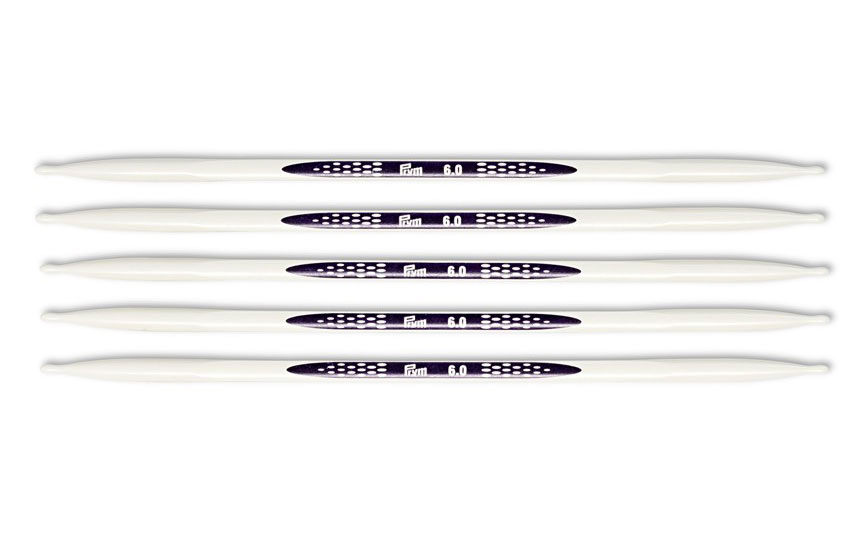 2. Double pointed needles
The double pointed needles allow you to knit the "tubes" of knitwear in the round. Commonly associated with the making of socks, four or five needles are used to work in a circle, or more precisely, in a spiral, creating a seamless tube. The rows are counted as rounds, with the last point of one lap leading directly to the first point of the next. Work is sometimes transformed in a conventional way, for example when heels are formed or "turned".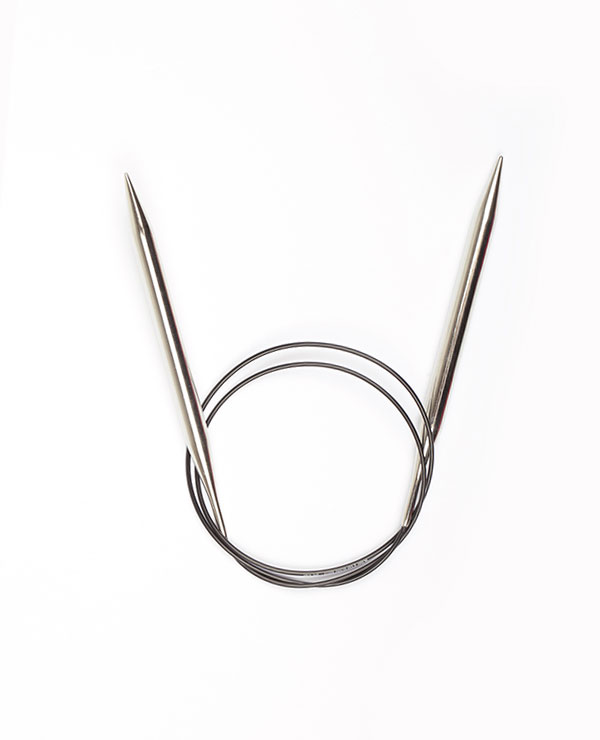 Circular irons consist of the tips of the irons shorter than traditional ones, joined together with a flexible cable. These needles can be used like regular straight needles for knitting back and forth, but can also be used for working in the round. They allow you to have many points on the needle, and are therefore ideal for knitting large shawls. Some traditional Nordic-style knitting techniques use circular knitting to make seamless sweaters, or to knit seamless sleeves. There are two types of circular needles: Fixed circular needles: ferrules are permanently attached to the cable and are available in specific length and iron combinations. The union between the tip of the iron and the cable is smooth to allow the points to travel easily from one cable to another. Interchangeable Circular Needles: The tips and cables of the iron are made separately, with spikes that can screw the ends of the cable. This means they can be joined in any combination of iron size and cord length, giving the knitter a lot of flexibility in a wide range of projects. Knitting in the round has several advantages: many seams and extra finishing work are eliminated and also the weight of the work that the arms have to support during the knitting is much lower. You can also substitute pairs of circular needles for double pointed needles, or use just a circular needle and the magic loop technique to make socks, sleeves or other tube-shaped knitting projects.
MATERIALS OF THE IRONS AND CROCHETS
The different materials of the needles have been designed to help the knitter manage the yarn to be worked efficiently and to add comfort to exert as little effort on the hands as possible.
This very familiar material for irons makes them very smooth and the knitting is very fast. It is ideal for yarns that can be hairy and fibrous, helping the stitches glide smoothly. Needles made of metal, aluminum, steel and carbon fiber are suitable for the thinnest points, which are indispensable for certain yarns and for complex sewing jobs such as lace made with very fine stitches or complex knitting.
These irons have a little bit of "bite" on their slightly rough surfaces. Perfect for hairy yarns, the wooden and bamboo needles help stop slippage points from the needles themselves. They are warm and soft to the touch, pleasant sensations especially for knitting machines who suffer from hand problems such as carpal tunnel or arthritis.
High performance plastic and synthetic material
This light material, very comfortable to work, is characterized in these work tools by a flexible core that prevents them from breaking. Available in a rainbow of fun colors, plastic or synthetic knitting needles are ideal for encouraging children to learn to knit.
length: Straight (single pointed) needles are available in different lengths: 35 and 40 cm. Double pointed needles are available in three lengths: 10.15, 20cm. Circular needles (cable sizes plus tips) are available in the following sizes: 25cm, 40cm, 50cm, 60cm, 80cm, 100cm, 120cm, 150cm. thickness: The knitting needles are available from thickness n ° 2 to n ° 20. The crochet hooks are available from size n ° 0.60 to n ° 15