Drops Kid-Silk
The perfect combination of Mohair and Silk.
The Garnstudio Kid-Silk yarn, made from a unique blend of 75% Mohair and 25% mulberry silk, is as light as a feather and gives garments a sophisticated look, whether used alone or in combination with other yarns.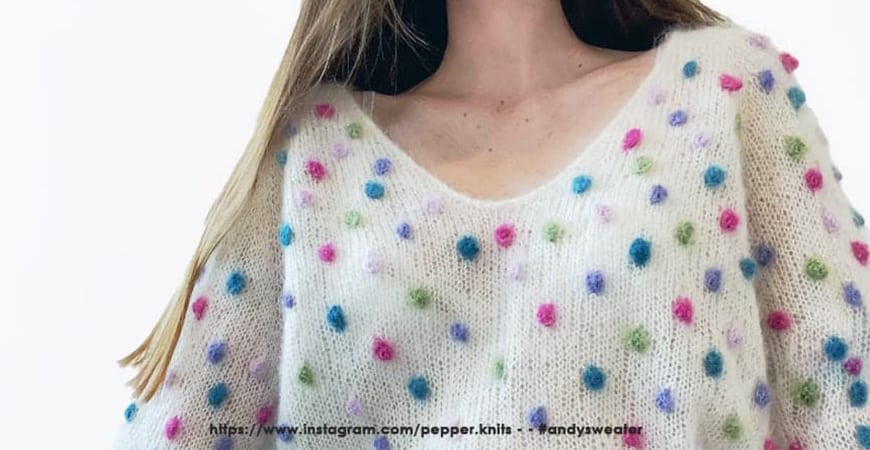 It is perfect for small garments such as shawls, shoulder warmers and feminine tops, but is extremely versatile in use and combinations with other yarns. Drops Kid-Silk is available in a wide range of colours and is our most popular yarn for matching!
The lightness of Drops Kid-Silk is in the 210 mt of yarn for ball of only 25 g: excellence in count -grossness- classified Lace. Thin, elegant and versatile, Kid-Silk gives a precious sheer effect, light and airy in the garments in which it is used.
The processing possibilities it offers are many and consequently very different projects can be realised.
Let's start with the processing with a single Kid-Silk yarn: unique and distinguishing garments that you can wear according to your personality and the occasion in which to express your sophisticated taste that will always be enhanced by the quality of the fibre. So, it will be during your working day or on a special occasion or on an elegant and romantic evening.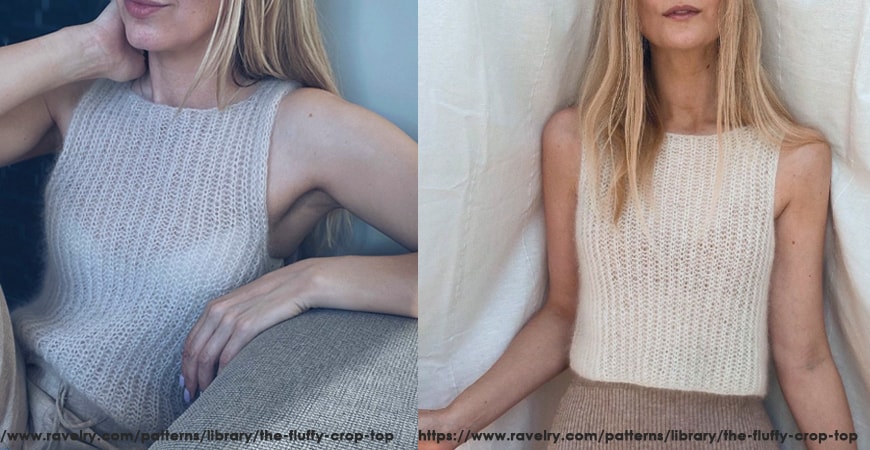 Here, to achieve the gauzy effect of these garments, the choice of needles/crochet hooks to be used will be crucial, depending on the effect to be obtained.
Kid-Silk can also be doubled to create a weave which, although is more covering, retains softness and fluffiness as its main element.
It can even be tripled as for example @coconknits did: she combined 3 strands of DROPS Kid-Silk to knit these beautiful #augustasweater by @gregoriafibers.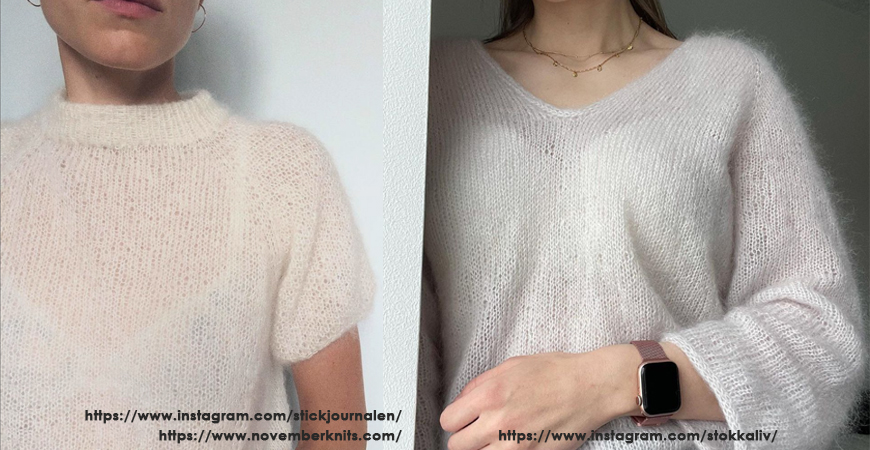 The most common way of using Kid-Silk yarn is to combine it with other yarns in the process, and there are many proposals and patterns that go in this direction.
In fact, its characteristics are enhanced by combining it with various yarns, even with different thicknesses, to give a muffled effect that creates surprising combinations and results, as in the examples shown in these quick demonstration videos.

In our product sheet for Kid-Silk yarn, as for all yarns, there is a link to an infinity of free patterns which are always useful to give you suggestions, to indicate the quantity of yarn needed, to make your ideas more concrete.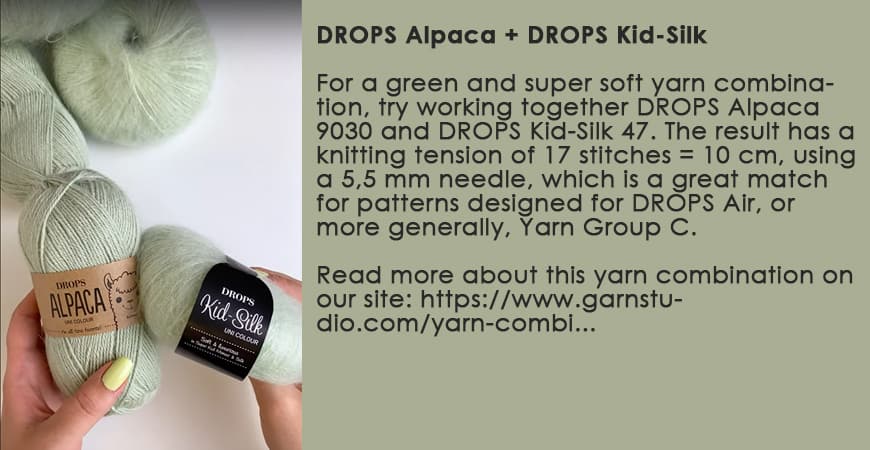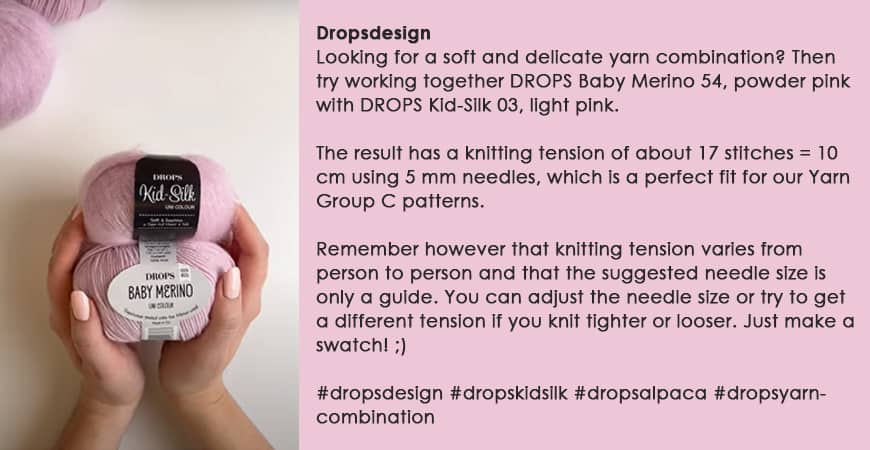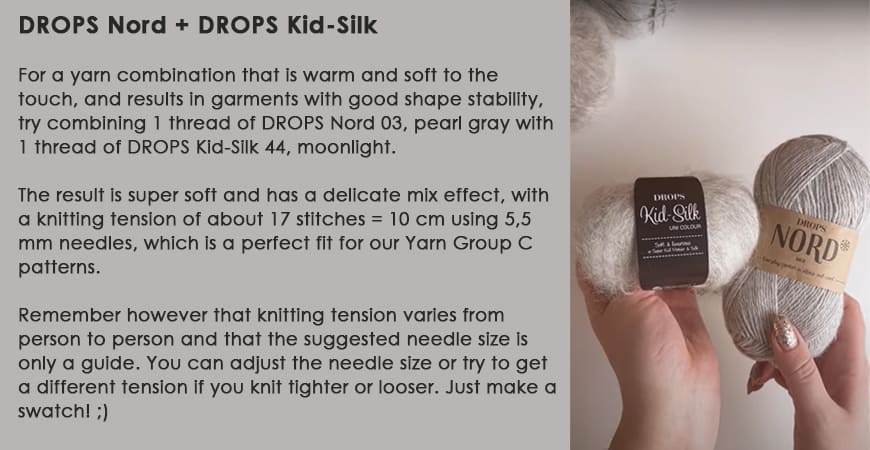 Which colours of DROPS Kid-Silk would you combine for a project like this? See all colours now to learn more about the yarn and see the complete shadecard on our website. The colour chart is constantly being enriched with new shades to suit all tastes!
Last but not least: how should this yarn be treated?
Hand wash, max 30°C / Dry flat on a flat surface.
As DROPS Kid-Silk is a yarn that is widely used in combination with other yarns, it may happen that you have a garment made in combination with another yarn that requires different care than Kid-Silk.
In this case, it is very important to follow the washing instructions of the more delicate of the 2 yarns. Whichever combination you wash, you will always reduce the chances of ruining your project this way: wash it yourself, don't let it soak, avoid using fabric softeners and let it dry flat (not hanging).
Don't forget to share with us your achievements with our yarns: find out how to join our Community!
https://www.lanaonline.it/content/community
https://www.lanaonline.it/content/partecipa-alla-community
#welanaonline
Leave a Comment
Leave a Reply